With the rollout of the new design in early 2020, there are now additional customization options. These require changes by our support team. Please contact support if you would like to enable or change them.
'Show all services in the current status'
All circles at the top of the page are representing the real-time state of a service.
By default, the top right corner of your status page displays the services in affected or down state, organized by group. This is so that users will quickly see if there is a problem or issue. Then if they wish to see more info they may scroll down.
Displaying only those services in non-green state keeps the design manageable especially when the number of services grows beyond a small number.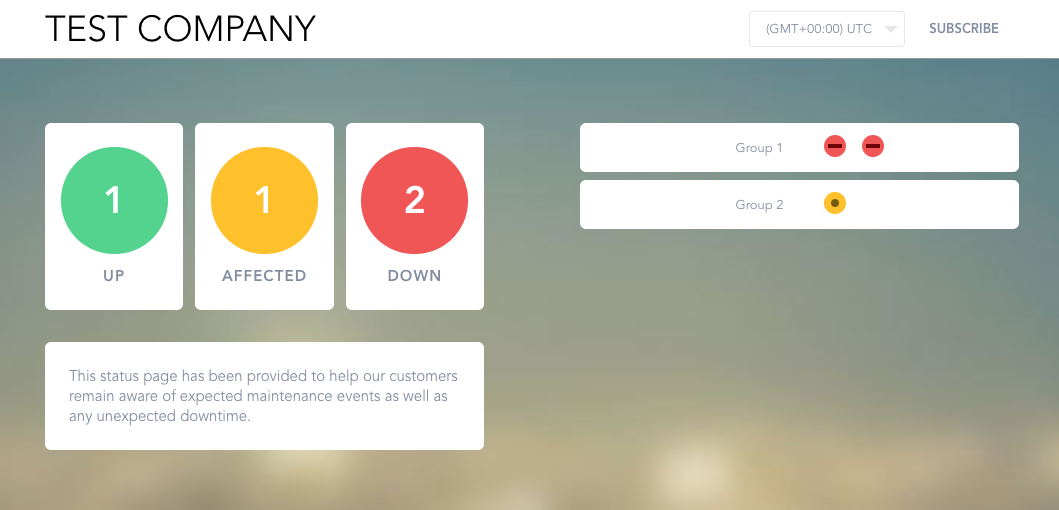 Some customers that have 20 or fewer services prefer to have them all displayed in the top right. This option can be set per hub.
We can turn on manually "Show all services in the current status" for customers who prefer this. If you would like to display all services on your status page, please contact support.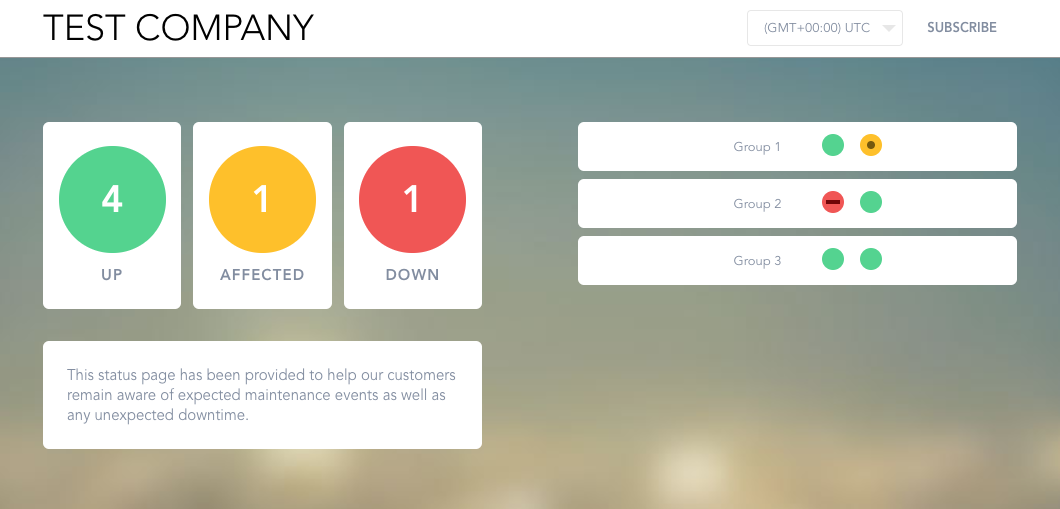 'Collapsed view'
If there are no maintenance events, incidents, or other events - the collapsed view, seen below, will be displayed.
When there are no incidents, the Notifications and Maintenance tabs are collapsed.

All incidents and ongoing notifications are displayed in the expanded notification tab.

In our recent design update, we introduced a new mini calendar interface to show future (planned) maintenance events.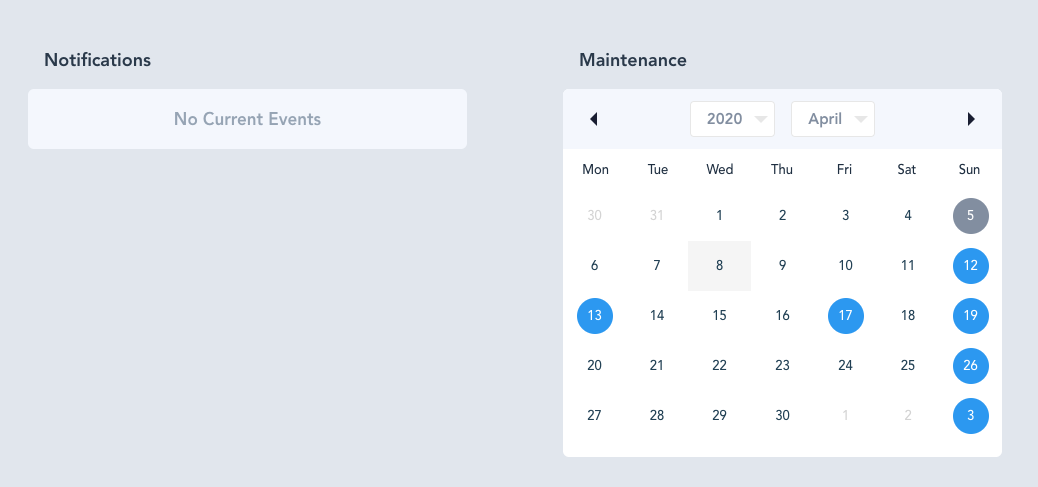 The calendar interface appears as default. There is also an alternative simple list view.
Currently, this is a manual change. Please contact us if you would like to switch to the ListView for your account.

'Show affected only'
The default behavior of the Service History section is to only display affected services.
This is more manageable in the case of large number of groups and services.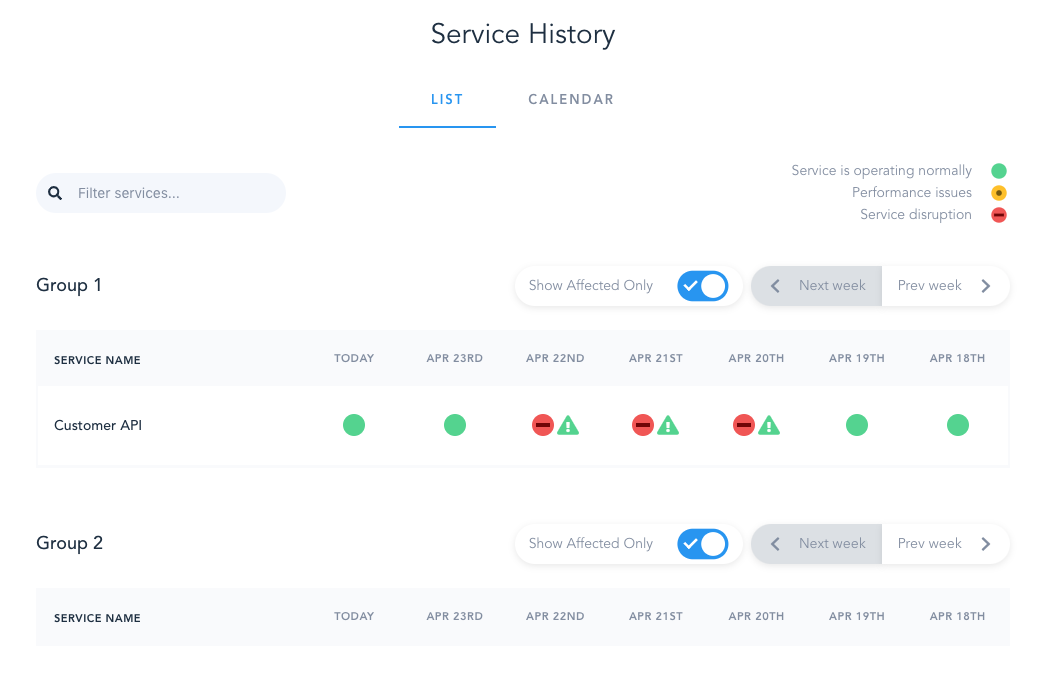 However, we can manually disable "Show affected only" and display all services in the Service History section. Please contact us.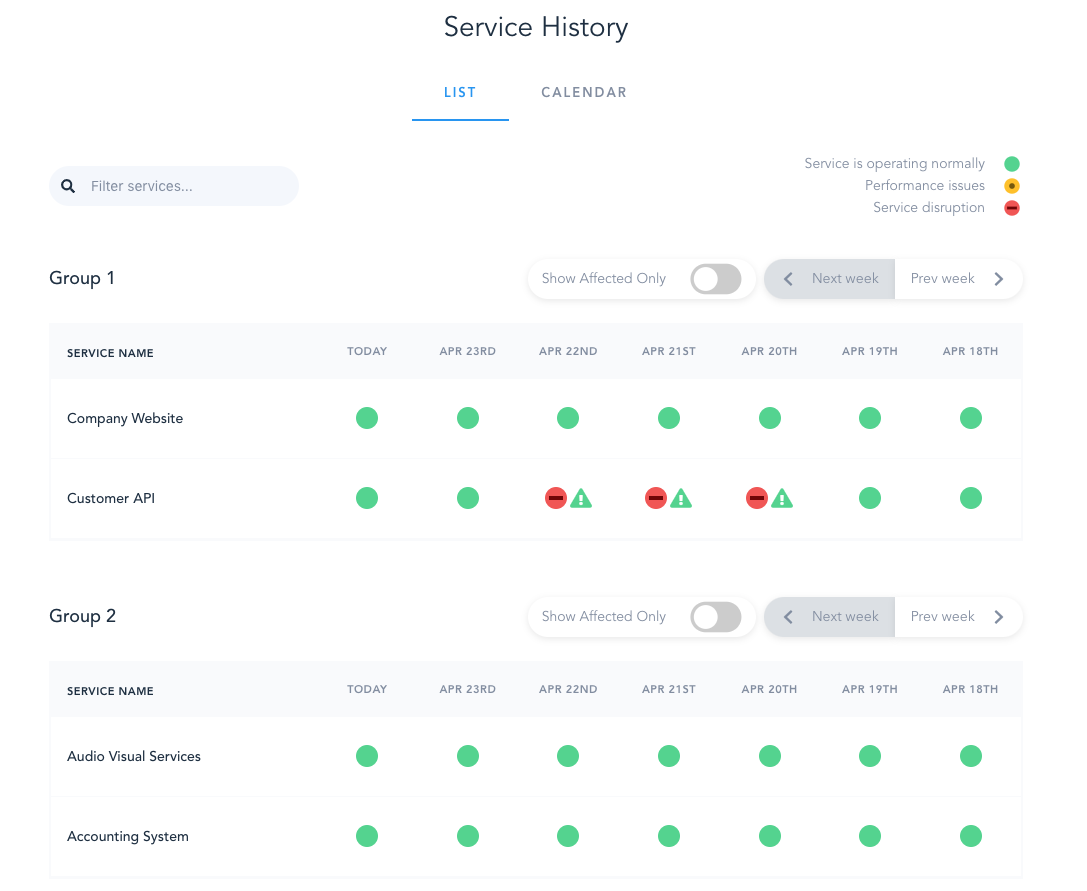 'Notifications services list mode'
In the notifications box during an Incident, we show the number of services affected. When a user would like to see details, he may click on the incident title, which will display the event page containing the service details.
This is another change made to factor in cases for events with large numbers of services affected.
Again we have made it an option.
In the future, we plan smarter options such as adapting to the number. For example, if there are only 5 or less then we will always list them.

We can add the option of displaying all affected services during an incident.

If you have any questions or feedback, please contact our support team.