StatusHub subscription settings may be used to manage what options are provided to end-users when they subscribe for notifications. These options appear after clicking on the Subscribe link for your status page.

StatusHub subscription settings may be accessed by clicking on the Edit (Pencil).

Choose Subscriptions within the left panel. You may enable or disable specific types of subscription methods such as SMS or Slack. Additionally, it is possible to place a limit on the number of individuals who can subscribe.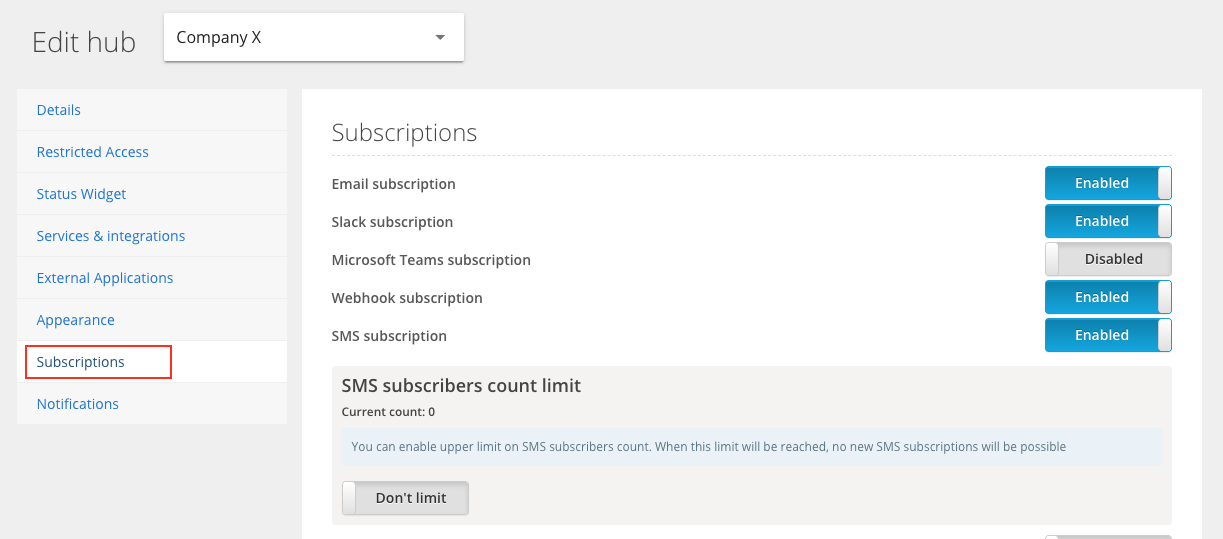 Enabling and Disabling Subscription Options
Use the slider on the right to enable or disable each subscription method. Each will appear in blue and show "Enabled" or in grey with the word "Disabled".
Then click on Update at the bottom of the page to save the changes.
If a subscription option has been disabled, it will not appear in the Subscribe section of the hub page. In the example below, Microsoft Teams has been disabled.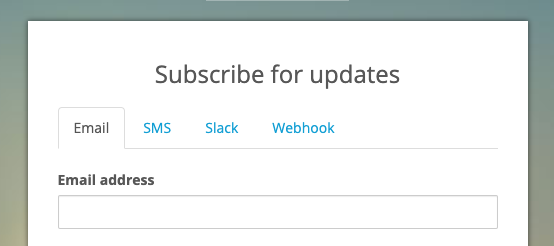 Limiting the Subscriber Count
The subscriber count for SMS notifications may also be limited to a specific number of end-users. Within this section of the Subscribers settings, you will see the current SMS subscriber count. By default, the option will be set to 'Don't LImit'.
The slider for this option will appear in blue with the word "Enabled" when the option has been enabled for limiting subscriber counts. Use the field below the slider to enter a count limit for SMS subscribers. Once finished, click on Update at the bottom of the settings screen.

Notify on Failed Slack and Webhook Notifications
The Notify on failed Slack and Webhook notifications option is enabled by default.


If the entered URL for a Slack or Webhook subscription is invalid, an email will be sent to the email address account owner. Click on the slider and then Update to disable this option. If this option is disabled, no notifications will be received for invalid Slack or Webhook URL subscription information. An example email is shown below: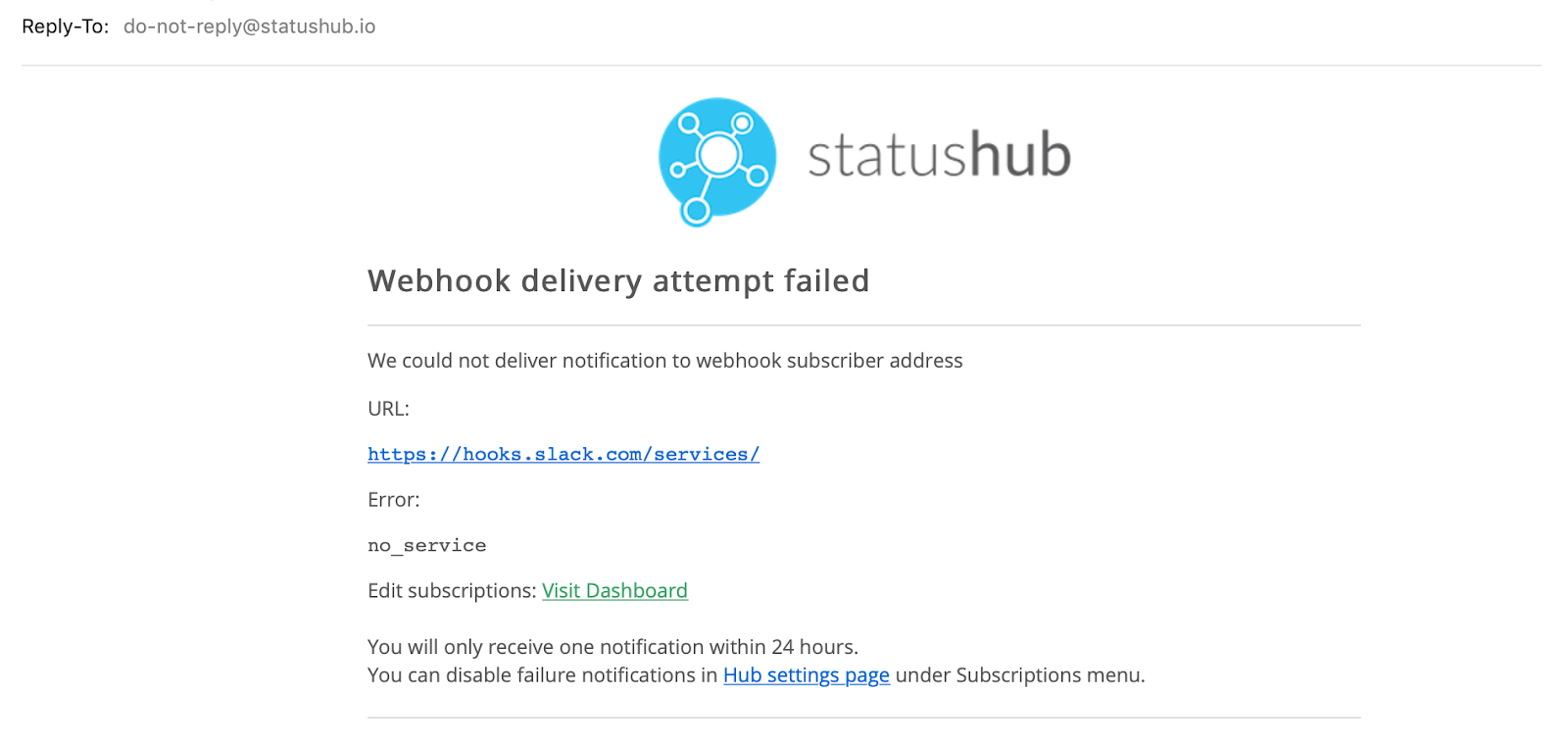 Subscription confirmation message
You can add text which will be included in confirmation emails sent to new subscribers for a hub page.

Create a message to subscribers which will be sent in the confirmation subscription email

Below is an example email.
Please note: The following text is prewritten and can not be changed.

"This email is a confirmation of your subscription to "Hub Name".
Thanks,
The "Hub Name" team."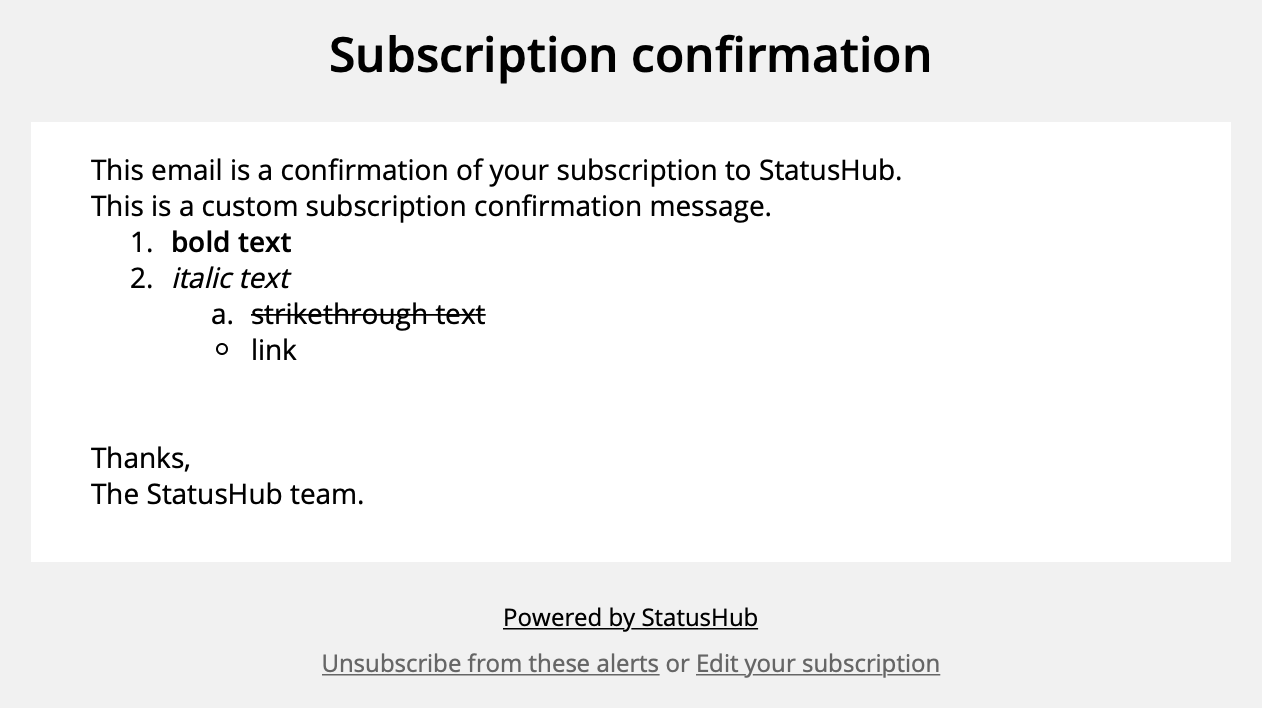 As always please feel free to contact support with any further questions regarding managing status website subscription within StatusHub.